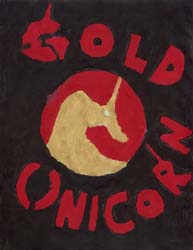 Gold Unicorn
by Don Cheney, a factory cripple.
Cover by Max Cheney
-This is Mr.

Chrostwaite

-Vance Richmond said.



Chrostwaite

, in a calf-high jumper, entered the brazenness as only someone in a calf-high jumper can: grunting, careening, and canning tuna like it was reconstituted pabulum.

¿Me? I'm a grunion man and I'm always up for a good run.

So starts the new thriller by Don Cheney. Drawing on the spirit and form of

Dashiell

Hammett's "One Hour", Gold Unicorn is a rollicking good time by the author of "I'm Old, But I'm Not As Old As The Center Of The Earth Is Old Because That's Really Old".

¿Who sent John

Newhouse

flying over

Uhura

Street? ¿Who kicked the op in the

gott

in

himmel

? & ¿Who could get the op to shut the fuck up?

Find out in the new short story "baked to crispy perfection" by Don Cheney.