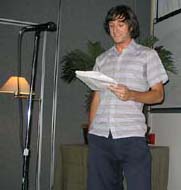 Max reading at Miramar College 5/21/04
See and hear the video -- AVI format

from Max Cheney's
"The Three Imperfectionists"
:
This gas station was like no other. The vibrations emanating from it were perversely similar to what an earthworm feels when pondering its place in the world along with the horror it endured while Three's Company was on primetime.
As Alfred walked around the car images of Suzanne Somers crept up on him like a deranged clown in a coalminer's nightmare. "She's got a nice set of cans...Goddamn!" Alfred blurted out as he and Jorge took their seats.
Jorge didn't know what to think of this strange exclamation. After all, he hadn't interpreted the vibrations from the gas station having anything to do with Three's Company.